From 18-20 September 2023 the members of the IC met for their 54th annual conference in Wuppertal, Germany.
The conference was hosted by the University of Wuppertal. For more information you can visit the conference website: https://www.dmt.uni-wuppertal.de/en/iarigai-2023/
For the fourth time it was a joint conference together with the iarigai, which held their 49th annual conference "Advances in Print and Media Technology".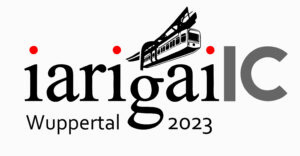 The following pictures were taken by Christiane Freyer, Univ. Wuppertal:
Here are the abstracts of the presentations contributed by IC members:
Heiko Angermann: Interaction Design for Print Media – Teaching print media workflows by emphasizing the great diversity of print media products
Jiong Liang and Zhicheng Zhang: Making but with Creativity – The Cultivation of Intelligence for Future Printing
Enn Kerner: THE FUTURE OF PRINTING TECHNOLOGY ENGINEERS EDUCATION
Kenneth Macro: Swearing, Fighting, Three Letters and a Space: Joseph Moxon and Printing House Chappel Rules
Christos Koutrouditsos, Anastasios Politis and Antonios Tsigonias: Color Guides: From early times to today digital world
Stamatina Theohari, Sanja Mahović Poljaček and Tamara Tomašegović: PROPERTIES OF THE INK-COATINGS WITH ADDED SiO2 NANOPARTICLES PRINTED ON ALUMINIUM SUBSTRATES
Ivana Tomić, Ivana Jurič, Sandra Dedijer, Savka Adamović: Artificial intelligence in graphic design
Gerasimos Vonitsanos, Evangelos Syrigos, Marios Tsigonias, Pinelopi Nikitopoulou, Georgios Gamprellis: The EKFIPLUS project Inventory Results on Learning Material Development in the creative and Cultural Industries
Charles T. Weiss: Design Thinking in the Graphic Communication Classroom
Charles T. Weiss: Creating Block Printing Plates Using a Laser