Professor Tsyganenko Dr. h. c. of the University of Wuppertal
Prof. Dr. Alexander M. Tsyganenko has been granted the title of honorary doctor by the University of Wuppertal.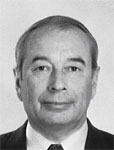 The official awarding of the title Dr. h. c. by the rector of the university, Professor Dr. Volker Ronge, will be held on friday, June 6th 2008 within an open experts' meeting of the International Circle of Educational Institutes for Graphic Arts Technology and Management in the center of auditoriums on campus Freudenberg. Professor Tsyganenko has been rector of the widely known and distinguished Moscow State University of Printing Arts (MSUD) since 1986 that has been connected to the University of Wuppertal by a cooperation treaty since 1992. This affected mainly the exchange of students and lecturers, but also many other projects that wouldn't have been possible without Professor Tsyganenko's personal commitment. Tsyganenko has received a large number of honorations so far. He is a member of the Russian Academy of Sciences and has received, among other things, the highest Russian Order of Merit awarded to civilians.