Alexander Tsyganenko Appointed HdM Honorary Professor
Alexander M. Tsyganenko, Rector of the Moscow State University of Printing Arts (MGUP), has been appointed Honorary Professor of the Stuttgart Media University (Hochschule der Medien, HdM) by unanimous decision of the German University's Senate.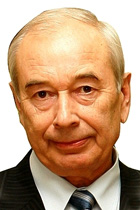 This was to acknowledge Tsyganenko's long-lasting commitment to the cooperation of the universities, especially in the field of printing. "Alexander Tsyganenko is a highly respected to honour this internationally renowned scientist for his contributions to HdM. He has promoted our teaching as well as our research very much", HdM Rector Alexander W. Roos highlighted. Tsyganenko has been Rector of MGUP, the largest institute of its kind worldwide, since 1986. "MGUP has been one of our must important partner universities for many years. Alexander Tsyganenko especially promotes student as well as teacher exchange", Prof. Dr. Wolfgang Faigle, IC chairman and HdM Pro Rector for Research and International Relations, added. MGUP has been a member of the IC since 1994 and supports it strongly by, e.g., organizing several IC Annual Conferences and printing the IC Journal for free. Alexander Maximowich Tsyganenko, born in 1944, studied electrical and automation technology at the Moscow University of Mining. He Worked at the Ministry for Higher Education of the former Soviet Union and later as the director of a school book publishing house. He wrote and edited a large number of textbooks on electrical and automation technology as well as media production.
eaching materials, results and impressions of the almost three week long Summer University have been made available online on the
EDPM website
.