Professor Dr. Rajendrakumar Anayath wins PIA award
Dr. Anayath from India was honored with the Education Awards of Excellence 2011 for his outstanding achievements in the print media, during the 2011 GASC/Printing Industries of America Teacher's Conference from September 10-12 in Chicago, IL.
The award by the Printing Industries of America (PIA) is presented annually to an academic and an industry representative in recognition of outstanding contributions to education and training in the graphic arts. The Printing Industries of America it is the world's largest graphic arts trade association, representing more than 10.000 member companies and 1 million employees.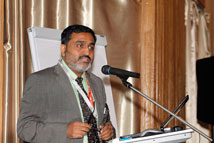 Dr. Anayath is an erudite academician, researcher and consultant with high caliber and extensive experience of over two decades in result oriented research, consultancy and training in Graphic Arts Industry. He has travel experience around the world for conducting programs, research activities, conferences and exhibitions and is a member of many prestigious research associations and bodies like PIA/GATF, TAGA, IARICAI, IC and so forth. Dr. Anayath authored and published many research papers in national and international journals and is also a freelance science journalist and a regular columnist in magazines and journals on print and media. Furthermore, being a visiting professor to many universities and colleges around the world. Dr. Anayath, who currently heads Heidelberg India's Media Academy (PMA) in Chennai, is fully responsible for the establishment of the academy in India to cater the needs of the print Industry within the country. The International Circle congratulates Profesor Dr. Rajendrakumar Anayath on his award 'Education Awards of Excellence 2011'!